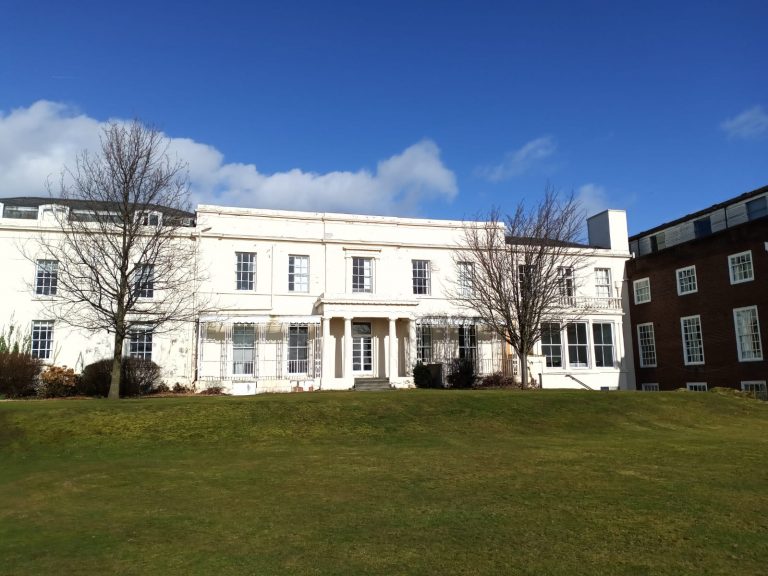 Liverpool Black History Research Group (LBHRG) has been successful in its campaign to stop the demolition of this historic building within Liverpool John Moores University's (LJMU) I. M. Marsh Campus at Mossley Hill. Following an application made by the group, Historic England has recently announced, the property known as 'Bark Hill' will be protected as a Listed Building. This protection will apply to the original building excluding its 20th century additions.
The group were first alerted to the threat to Bark Hill when the University vacated the I.M. Marsh Campus and consulted the public on a proposed Master Plan for its redevelopment. Proposals at that time showed the demolition of Bark Hill and redevelopment of the larger area it occupies for housing and public open space. Bark Hill, which dates to the early 19th century was originally a mansion house with country estate, occupied by several of the city's foremost merchants. Furthermore, most of those merchants made their fortunes from the slave economy either as plantation owners, slave traders, or having business interests in slave produced goods, such as sugar and cotton. Our case was it was important to retain Bark Hill, as a home of the mercantile elite and for its slavery connections to be explained.
The listing information from Historic England states
'Bark Hill typifies the early-C19 popularity of high-quality villas set in private grounds as an ideal of a rural retreat, and within the suburban Liverpool context illustrates the connection between fine architecture and owners made rich directly or indirectly through their links with the Transatlantic slave trade'
We are grateful that before a decision on our listing application, LJMU's Estate Director met with us and agreed that Bark Hill would be retained in a revised masterplan. The listing, however, provides an enhanced level of protection since ultimately the entire site in which Bark Hill sits will be sold.
LJMU is one of many institutions signed up to the Universities Studying Slavery Consortium (USS) and this provides the perfect opportunity to relate Liverpool's role in that history to this specific site. Having secured the retention of the building as a next step, we welcome a dialogue with LJMU and their property advisors on how awareness can be raised of the site's history and legacy. At the same time, we have asked LJMU to collaborate with LBHRG investigating its own roots by examining its forerunner The Mechanics Institute, including two of its most important benefactors John Gladstone and Benjamin Arthur Heywood who are known to be steeped in the slave economy.