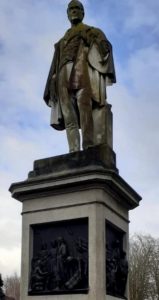 The white marble statue standing prominently in Sefton Park commemorates William Rathbone V (1787-1868), one of Liverpool's great humanitarians who helped establish Liverpool's municipal wash-houses, most notably associated with Kitty Wilkinson.
The Rathbones were arguably the greatest of Liverpool's mercantile philanthropist families who over a number of generations contributed greatly to civic life in the town.
They are known as one of the few prominent Liverpool families that opposed the slave trade, but their story is a tad more complicated than simply being pro-abolition.
The Rathbone family owned a slave in Liverpool. An entry in the day-book of William Rathbone III for 1768 shows that he bought a 14 year-old black boy called Tom and sold and shipped him to Trevor Corry, a merchant in Danzig, for £32 12s 5d along with some items of clothing. In 1788, both William III (1726-1789) and his son, Willliam IV (1757-1809), would become founder members of the Liverpool Society for the Abolition of the Slave Trade, yet although they became abolitionists the family fortune would be made primarily through the trade in slave-produced cotton. William Rathbone IV known within the family as 'The Abolitionist' is popularly credited as the first merchant to import slave-grown United States cotton into Britain. This crop would be integral in transforming Britain into the 'workshop of the world' and the first industrial superpower during the 19th century.
William Rathbone V, commemorated on the statue, would grow the family's interest in cotton exponentially after his father's death in 1809 and his son William VI (1819-1902) would continue the family's concerns in cotton even visiting the Deep South in 1849. In a letter written home to his mother during his visit he opined:
"I really believe the slave of a great part of America has as large a share of animal enjoyment and freedom from misery as the labouring population of any part of the world.."
It is worth noting that Eleanor Rathbone, who wrote a memoir of her father, states that during the U.S. Civil War William VI supported the North in the fight to end the evil of slavery, but that did not stop him importing cotton from the slave-holding South during the period.
William Rathbone VI would use the family fortune to help found district nursing in 1859 and with the involvement of Florence Nightingale, in 1862, he opened the Liverpool Training School and Home for Nurses. A purpose built building that still stands on Princes Avenue was opened circa 1897.
The statue has three reliefs depicting classical scenes representing three of Rathbone's activities: charity, industry and education. If you look closely at the scene of industry, it looks like the figures are dealing in bales of cotton (pictured below) possibly an acknowledgement of the role it had played in creating the family fortune.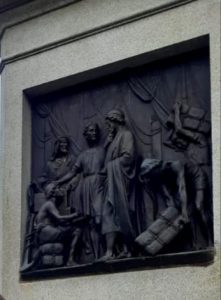 William Rathbone V was a founding member of the Royal Institution and invested in one share. Family members Richard Rathbone and Mrs Rathbone were also founding members, with one share each